Lisa teaches weekly classes in Morrisville, NC and is available for workshops in your community. She also offers private classes and parties for children and adults. She can come to your family friendly gathering or host you and your friends at World In Motion Dance.
Private Classes and Parties
Family Reunions,
Social Gatherings,
Team Building,
Birthday Parties
All of the women in my family meet every year at Thanksgiving to dance!
We chose belly dancing for the last two years! It has been a fun and relaxing way to kick in the holiday spirit of laughter and fellowship. Lisa has made it an enjoyable "girls" time for our entire family, ages 3 to 78. She creates an experience based on your musical choices. We will do this every year Thanksgiving weekend as a way to jump start the holidays for our family! Thank you Lisa, can't wait till next year!!!
~Delana Epps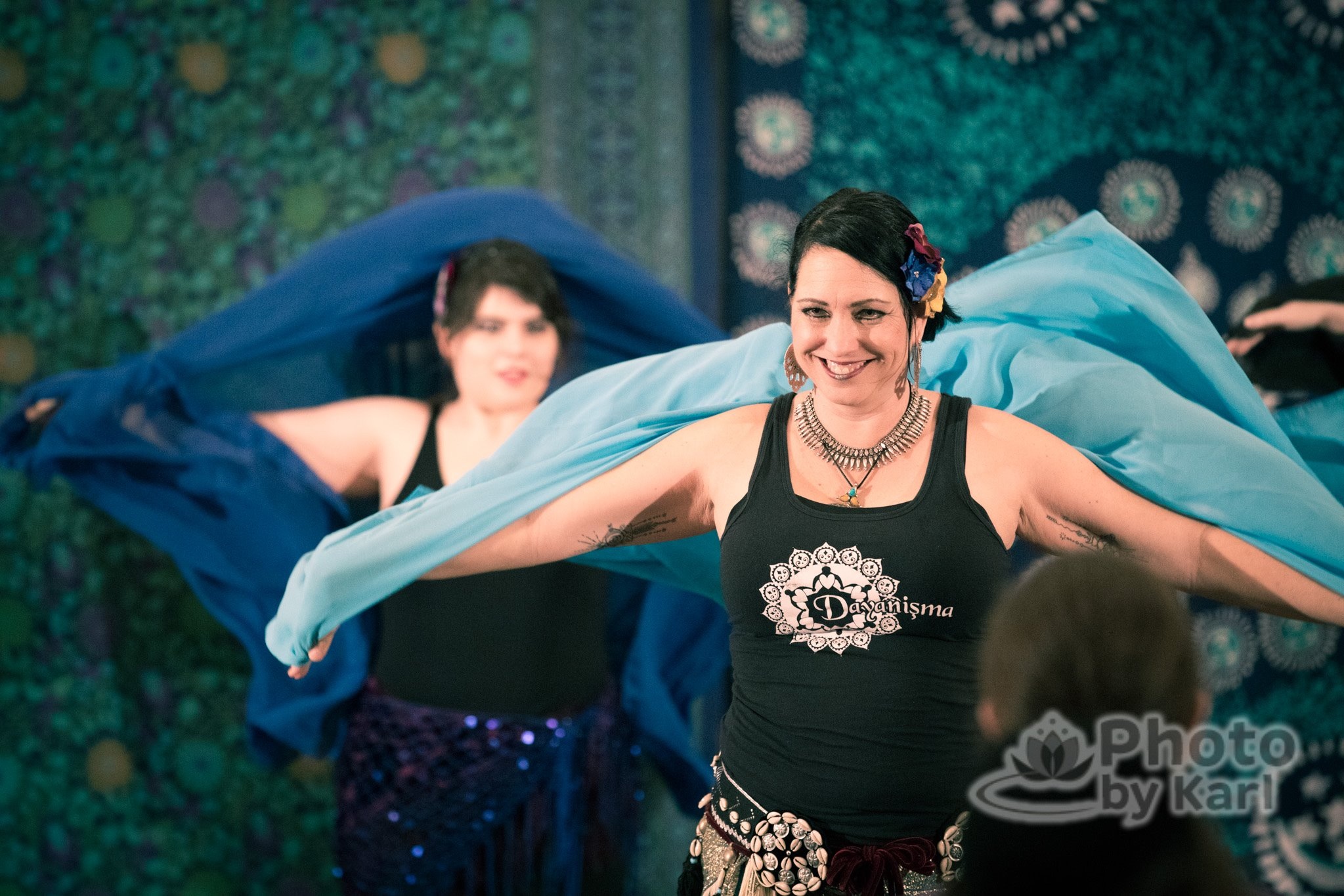 Workshops on ATS®
with Veil, Basket, Sword and A Capella Zils
Scheduled though Lisa's professional ATS® troupe, Dayanimsa.
Lisa's blend of humor, clear instruction and devotion to dance make her an exceptional instructor.
Her classes are welcoming and accessible for all regardless of age, shape or size and the dance is broken down in a way that makes it a joy to learn and fun for all!
~Dawn Ruckert
For Individuals or Troupes: In person or via Zoom
Thank you for making the world a little bit smaller…
and passing your knowledge to me and my Tribe at Shakti Fusion Dances Singapore!
-Isabelle Monkross
Intermediate ATS®
Mondays 8:20-9:35 p.m.
Advanced Topics in ATS®
Saturdays 9:30-10:45 a.m.
World In Motion Dance
Morrisville, NC
I love Lisa's teaching style...
She is very direct and methodical with explanations and class structure which I think helps me learn a little quicker. Her classes have little down time because she is so excited to teach which I find super motivational. It is easy to see she loves what she does. She is great at visually picking up on the parts of moves you are struggling with and giving advice or further explanation. Once you have a move she gives individual attention to add fine tuning or challenging you to push yourself a little further. She is an awesome instructor... but make sure you are ready to work.
~Anna Rae Sears
Performance, Parties, Lessons, and Laughs

Having Lisa for our daughter's birthday party was a win-win in every way.
Lisa has a way of engaging kids (and adults) which brings out creativity and joy. Lisa's knowledge as a therapist and dancer really shows! She develops the kind of memorable experience which encourages confidence and healthy body image...and all while having a great time. Our daughter and her friends are still talking about the belly dance party years later.
~Anna Kirby